According to data from the study "2025, a look at the future of business travel" conducted by GEBTA and BRAINTRUST, the changes that will occur in the Spanish business fabric, both in the number of existing companies and employees per company, as well as in the way they operate, will determine the physiognomy and size of the business travel sector in the coming years.
According to Ángel García Butragueño, Director of Tourism and Leisure at BRAINTRUST and author of the study, "We know that the situation of the Spanish economy and its direct impact on the way companies operate is one of the most influential factors in the development of business travel, but so is the change in culture and the way processes are organised. Now that we can predict to some extent what this change will be like, industry players should now change the way they operate, making afirm commitmentto technology, including maximising the use of self-booking tools, the use of apps, and integrating new partners involved in end-to-end travel management, developing powerful advisory, consultancy and analysis services that build a value proposition strongly based on improving the business rather than executing transactions. This change will help Spanish companies on their way to becoming more competitive in a context of uncertainty and volatility, in which companies that are committed to efficiency and excellence will be the clear winners in a globalised world".
More but smaller companies are being created. The average size of Spanish companies is holding back a greater presence abroad..
In 2010 the number of companies in Spain stood at 3.3M. Influenced by the economic crisis, the Spanish business fabric began to decline from that time until reaching its lowest figure in 2014, with a total of 3.1M.
Although the number of companies in Spain began to recover from that same year onwards and has reached 3.3 M again in 2018, the average size of companies after the crisis is lower than in 2010.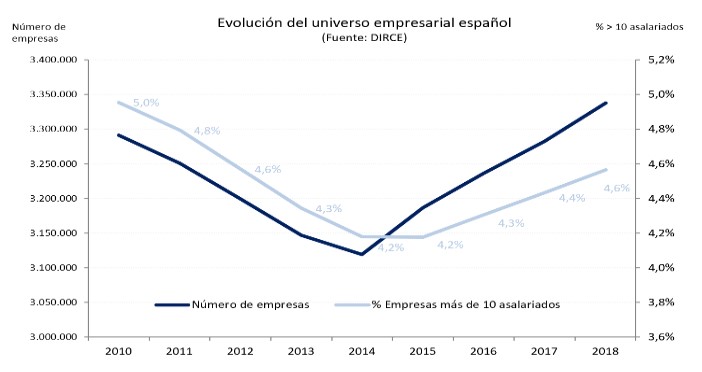 "With an average size of 4 employees per company, it is difficult to undertake internationalisation processes and maintain foreign activity on a regular basis, i.e. for more than 4 years in a row.Infact, although since 2013 there has been a progressive incorporation of SMEs and micro-SMEs in business travel, their presence is still small in relative terms and suggests opportunities for future growth", says Marcel Forns Bernhardt, Director of GEBTA Spain and co-author of the study.
18% of today's companies account for 83% of travel spend
The actual universe of companies currently impacting the business travel market is far too narrow. 83% of total travel spend is concentrated in companies with more than 20 employees (18% of the total), while companies with less than 10 employees (72%), the vast majority of our market, are responsible for only 11% of total spend.

67% of these companies with more employees are concentrated in 5 Autonomous Communities and 63% in 5 main sectors, which indicates that the Spanish productive market is highly concentrated.
Bearing in mind that the projected growth of the business park in the year 2025 is around 3.6 million companies, which represents an approximate growth of 7%, the average size of the companies will be a determining factor for business trips.
According to forecasts in the study "2025, a look into the future of business travel", of this group of 3.6M companies, approximately 5%-6% will have more than 10 employees, with an average size slightly larger than at present.
Size matters, but it is not the only determining factor. Technology and specialisation are key to optimising travel investment.
In order to prepare the growth projections for business travel in Spain in 2025, the study prepared by GEBTA and BRAIN TRUST also analyses the contextual factors and the main economic variables that condition the business.
"The way companies work will change radically, which will have a major impact on the management of their business trips. On the one hand, the way of organising work and production processes will take a 180º turn due to digitalisation. Smaller teams, delocalised, more demanding with the speed of processes will be common, just as we will see a greater focus on people (employees, customers, partners, etc.).
The business travel sector will facea new profile of travel managers or account managers whoare much more accustomed to digital technology and to thepermanent pressure in search of efficiency," says Ángel García Butragueño.
Travel agencies, which are constantly evolving, will be tasked with helping companies to optimally manage their travel, and therefore be more competitive, by supporting them in their efficiency and productivity, thus helping to grow their business and improve their margins, through travel spend optimisation programmes, efficient and integrated processes and the adoption of state-of-the-art technological tools.
Digitisation and the use of specialists are key elements to ensure the efficient use of the second largest indirect expenditure item, as well as to ensure adequate security and prevention policies.
Both elements are key for business.
According to José Manuel Brell, Partner and Head of the Quantitative Research and Modelling practice at BRAINTRUST, and author of the study, "The trend is that in 2025 the business travel sector will be made up of a set of integrated processes heavily supported by technology, with fully automated flows where needs will be linked to business improvement and profitability. If tourism companies take the lead in this change, they will not only have the advantage of being the promoter of the change, but also the capacity to direct this transformation towards the standards they consider most appropriate for their business, helping in their mission, the digitisation of the Spanish business fabric, and with it their competitiveness in an increasingly open, difficult and complex market".
Possible scenario for Business Travel in Spain.
Depending on the combination of the different factors indicated - and without detriment to the global environment - investment in business travel in Spain will move between 15,000 and around 16,000 million euros in 2025. In a moderate scenario, the Business Travel sector will have grown by around 22% cumulatively, reaching 15.2 billion euros.
"The difference may not seem significant in terms of relative annualised growth (around 3%), but if we take into account that there is a correlation between investment in business travel and commercial activity, which currently moves in a ratio of 1:10 (10 euros for every euro invested in travel) and 1:6, depending on whether we are talking about exports or the domestic market, the distance between the lowest scenario and an optimal scenario of 16,000 million euros could generate an impact equivalent to 0.5% of Spanish GDP," says Marcel Forns.
Conclusions and recommendations
The management of business travel in Spain by companies still has some way to go to mature. Good corporate travel management is fundamental for the growth of companies' business and, by extension, the economy as a whole.
In the case of Spain, the study "2025, a look at the future of business travel" carried out by GEBTA and BRAINTRUST highlights the existence of a great opportunity for improvement, which could lead to an increase in the GDP generated (direct and indirect) of around 0.5%.
GEBTA and BRAINTRUST highlight the following basic recommendations for the proper maturity progress of business travel in Spain:
Regardless of the evolution of the global scenario, Spanish companies must prepare themselves to be able to compete in international markets under optimum conditions. The average size of companies in Spain suggests that it is advisable to promote appropriate policies that encourage the average growth of SMEs. A greater dimension of the structures of small and medium-sized agencies is a basic requirement to be able to face and maintain processes of internationalisation of the business.
Digitalisation is a key element for the optimisation of travel, which is on average the second largest indirect expenditure item. Across the board, Spanish companies need to rely on technology to make their processes more efficient, manage information properly, and improve their competitiveness. Without the right technology, not only is efficiency lost, but companies risk losing access to the best available fares.
In order to boost the digitisation and efficiency of the processes associated with travel, it is advisable for companies to seek advice from specialised travel agencies. Outsourcing management is a fundamental element for cost containment and optimisation of investments, but also for the proper management of security and prevention of travel and trips.