67% of Spaniards intend to travel in the next six months, 49% of them abroad, if the pandemic is brought under control.
BRAINTRUST, in a new wave of its Tourism Barometer, analyses how the recovery of domestic, medium and long-haul destinations is going for the Spanish traveller, and what travel intentions there are for the next six months. The data show that the moment of returning to enjoy destinations beyond our borders, which we saw as so distant a few months ago, seems to have arrived and that we could soon reach (if there is no greater incidence of the virus) pre-pandemic figures in the outbound holiday segment.
Spanish destinations recover 89% of domestic travellers compared to 2019, international destinations 22%.
Despite many travellers' fears of returning to their pre-pandemic travel habits, the beginnings of recovery are beginning to show.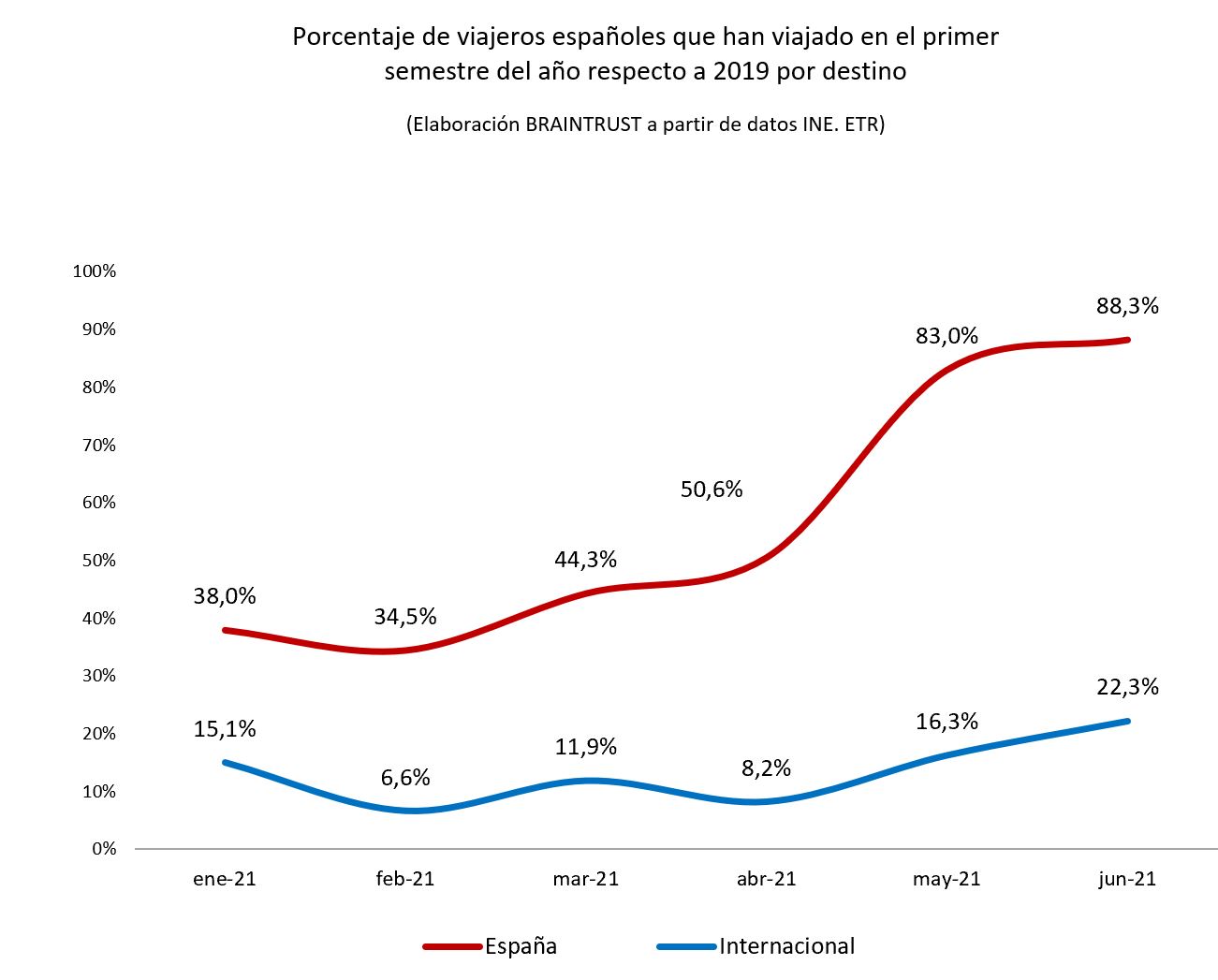 In the first half of the year, domestic travel by Spaniards reached nearly 88% of the trips made at the same time in 2019 when COVID-19 had not yet entered our lives. This evolution between January and June has meant an increase of 132% in domestic travel.
On the other hand, although to a much lesser extent, given the circumstances of border closures, vaccination passports and greater perception of insecurity, those medium and long distance destinations are also beginning to see green shoots, recovering 22% of their visits by travellers from Spain in the first six months of the year and with a growth of 47.8% over the year.
The battle for national destinations begins, as Spanish travellers lose their fear and start to travel abroad.
Data from the BRAINTRUST study show that 67% of Spaniards are willing to travel in the next six months.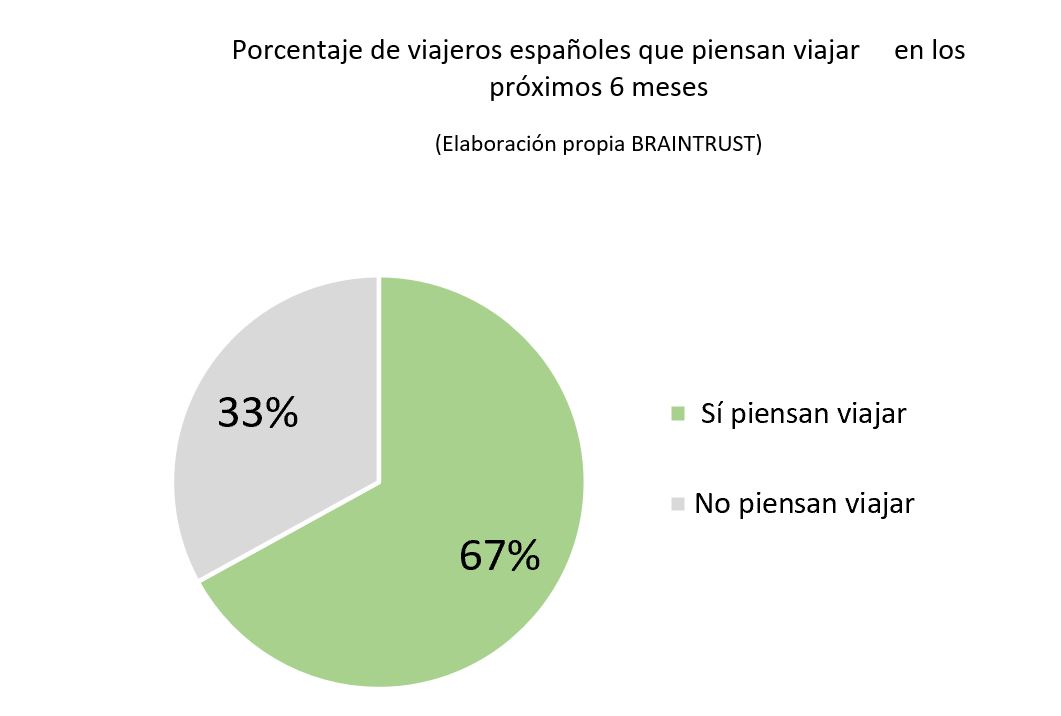 Therefore, almost three quarters of Spaniards are thinking of travelling, and of these 49% are keen to travel abroad, with 42% to Europe, 7% to more distant destinations, while 38% plan to stay in Spain, and 13% are not yet sure where to go. There is no doubt that the pandemic has curbed the desire to travel around the world, and has now accelerated it, which, together with the accumulated savings, has encouraged these encouraging figures.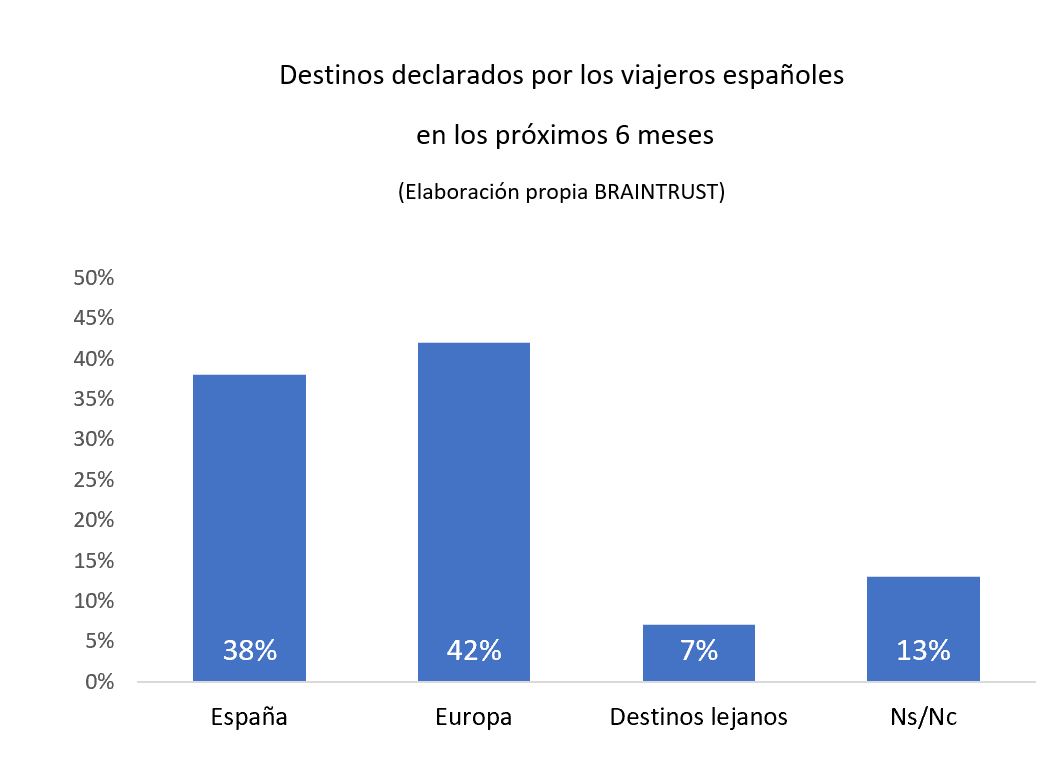 In this context, the battle is expected to be fought by national destinations which, faced with the impossibility of national tourists going abroad, have enjoyed "borrowed travellers" who, before the pandemic, travelled to other international locations. Against this backdrop, it is worth highlighting the fact that Spaniards will opt, after the summer, for small and medium-sized urban destinations, with a wide experiential and cultural offer, with strict security protocols, to guarantee a peaceful getaway after so much uncertainty during COVID 19.
Destinations must therefore offer experiential trips with high levels of security and flexibility, given the possible appearance of new outbreaks or a rise in contagions (such as those currently being seen in Europe), the main fear declared by Spanish tourists for the coming months, who continue to support appropriate health measures such as the use of masks, social distancing and reasonable seating capacity.
For Ángel García Butragueño, Co-Director of the Tourism Barometer, and Director of Tourism at BRAINTRUST, "The time for recovery has come, if there are no steps backwards in controlling the pandemic. Spaniards declare a very remarkable travel intention for the next 6 months, with an uncontrollable desire to explore new horizons in the face of the obligation to stay within our borders for so many months, and the gradual loss of fear. The time is approaching for destinations to fight fiercely to attract a traveller eager for new experiences, combined with security and flexibility, where all countries are investing in sustainable tourism models. Spain must make the grade by transforming its pattern of sun and sand, broadening its offer and providing it with more experiential attributes. A conscious, green and digital tourism is emerging, with the European Next Generation funds as facilitators of the transformation of destinations, a unique opportunity that we cannot miss as a country, if we want to remain world leaders, both for the national and international traveller".
Tour operators and travel agencies have a unique opportunity to regain their advisory role
Respondents to the BRAINTRUST Barometer, say that since the COVID 19 pandemic, they will use the travel agency channel more, reaching a penetration of over 40%. Their reasons are none other than that agents can offer travel security guarantees, as repositories of knowledge, experience and the tools to make travel a unique, peaceful and safe experience. Nowadays, people are looking for different trips, outside the usual flight plus hotel packages, and they want to add new concepts to trips such as gastronomy, shows, leisure, nature, sport, wellness, giving tour operators the opportunity to build new products and services that are truly differential, that are not massive, and that allow customisation for each client according to their objectives.
For José Manuel Brell, Co-Director of Barómetro Turístico and Partner in charge of the Quantitative Research and Modelling practice at BRAINTRUST: "It seems clear that the tourism industry is over the worst and is on the road to recovery. The real challenge is to recover demand, ensuring health security, while transforming the sector, with a focus on sustainability, innovation and profitability. Travel agencies and tour operators are at a turning point, where they must transform themselves to remain necessary in the eyes of travellers who, despite the rapid advance of digitalisation and e-commerce, are looking for expert advice in a world that is more uncertain and unpredictable than before the pandemic".
Advancing vaccination programmes and Europe's digital green certificate the keys to losing fear
Finally, Spanish travellers feel safe in view of the level of vaccination (full vaccination schedule) in our country, which is close to 80%, and on average in our closest neighbouring countries, which are close to 65%. The low incidence of contagion after the summer - although with an eye on the countries where the virus has flared up again - and the use of the European digital COVID certificate (77% support it without excuses), suggest that the worst is over, and there is a generalised intention to travel, after almost a year and a half of living "locked in" within our own borders.