Continuing with its analysis of the impact of COVID19 on the sector, BRAINTRUST has carried out a new wave of its Tourism Barometer which reveals which types of accommodation will be the most sought after once tourism revives in Spain, according to both the profile of the traveller and the type of tourism that will most help the recovery of demand for holidays in 2020.
Accommodation chosen by young people is the least affected.
Given that young people will be the first to resume their travel and getaway plans, as indicated in the previous analysis carried out by BRAINTRUST, hotels and also guesthouses and hostels will be the types of accommodation most affected by the COVID-19 crisis because they are the most chosen by older travellers, who will take the longest to resume tourism activities. On the other hand, the biggest beneficiaries will be campsites (with a growth over the last three years of 9.5%), hostels and guesthouses (+0.6%) and tourist flats (+24.7%), which are more in demand by young people.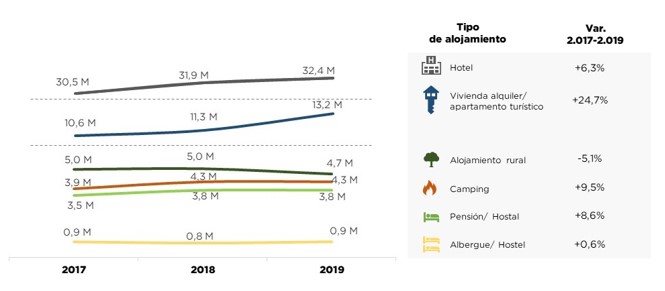 In a more detailed analysis by generations, we see that the oldest, the Baby Boomers (over 56 years old), mainly choose hotels (25.4%) and guesthouses and hostels (20.4%) for their getaways and holidays. At the other end of the spectrum, the youngest, Generation Z (under 25), prefer hostels and hostels (41.2% of those who stayed in hostels are from this generation), followed by rented accommodation (14.4%).
On the other hand, we see a more similar behaviour between those belonging to generations X (between 40 and 55 years of age) and Millennials (between 26 and 39 years of age), although there are some differences. While Generation Xers choose rural accommodation (47.5%) and campsites (45.6%), Millennials also choose campsites (37.6%) and tourist flats (32.0%).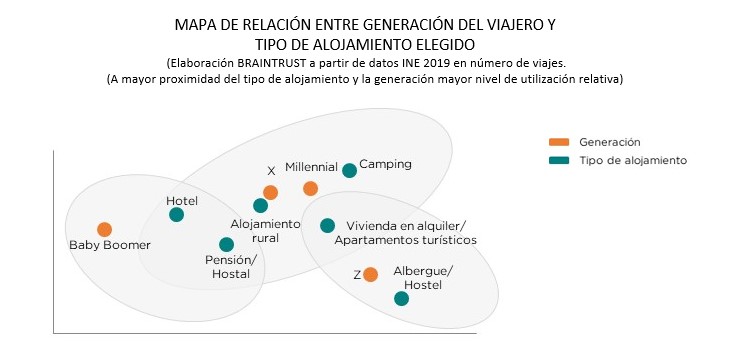 Analysing the sex of the traveller, we also find different preferences for where to stay. Men are more likely to choose hotel accommodation (54.3%), pensions and hostels (59.0%) and hostels (54.4%). On the other hand, women are more likely to choose tourist flats (52.7%) and campsites (58.0%) for their holidays. There are fewer differences in rural accommodation, with a similar behaviour between the two, although with a slight preference on the part of women (50.3%).
Another of the conclusions reached BRAINTRUST from its latest Tourism Barometer, is that there are also differences in behaviour when it comes to choosing where to stay depending on the type of trip.
For tourists who decide to travel to nature destinations, the most popular types of accommodation are rural (62.9%), campsites (45.6%), as well as hostels and guesthouses (36.6%). When getaways are made to beaches, campsites are also chosen (42.5%), hotels (38.9%) but above all flats and rented housing (58.1%). For those who decide to go on cultural trips, the preferred types of accommodation are pensions and hostels (38.4%) and hotels (33.4%). For both sports and religious tourism, hostels and hostels (32.6% and 8.6%) as well as pensions and hostels (14.5% and 3.6%) are chosen. While for gastronomic destinations, pensions and hostels are in demand (5.6%), for spa and wellness tourism, hotels (4.6%) and for shopping tourism, both pensions (1.6%) and hotels (0.9%) are in demand.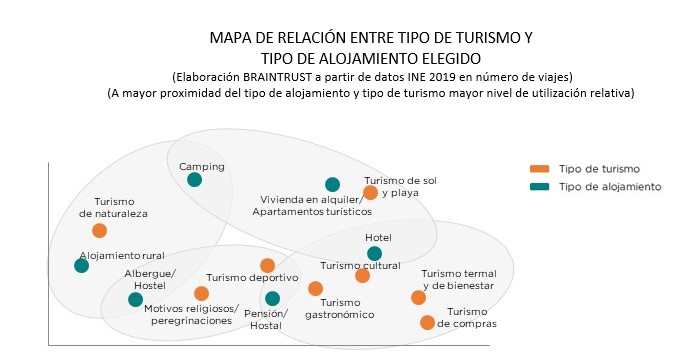 This relationship also indicates which types of accommodation will be less affected compared to others more related to destinations that, due to the COVID-19 crisis, will be less in demand. Trips to natural environments will be among the first to recover this summer thanks to the fact that they offer the possibility of spending a holiday away from the crowds, which means that, once again, campsites, hostels and rural accommodation will be among the establishments that will be able to recover first after the health crisis.
On the other hand, we find the destinations that could a priori generate a lesser sense of socio-health safety, and which will be the ones that will later experience a recovery. We are referring, for example, to sun and beach tourism and shopping tourism, which are also closely related to hotels.
Differentiation, key to overcoming the impact of COVID- 19 on accommodations
The accommodations most affected by COVID-19 will undoubtedly have to adapt to the new times and protocols, modifying their offer according to the new trends in order to regain the tourist's confidence.
According to Ángel García ButragueñoAccording to the co-director of the BRAINTRUST Tourism Barometer and head of Tourism and Leisure: "Never before has the sector faced such a challenge and such a great opportunity for transformation. It will be necessary to reinvent itself, but always bearing in mind what the consumer wants and the medium/long term. There is no doubt that this pandemic will pass, but the sector transformation must remain.
One of these new trends is related to the type of establishment chosen for holiday accommodation. Eco-Friendly accommodation is the most popular in recent years (36.6%). In fact, around 69% of travellers would be willing to pay more for a sustainable stay. Themed accommodation is also becoming increasingly attractive to travellers (30.5%), and in both cases the younger generations are the most interested in them.
On the other hand, the digital world and social media are nowadays becoming a great ally in terms of good publicity for companies. In this sense, 72% of travellers say that they take into account the reviews they find on the internet about accommodation, activities and restaurants when choosing them for their trips and getaways. And that there is a minimum score below which the establishment is not considered.
It is key to know what tourist accommodation can offer travellers to better adapt to their needs and also help them to differentiate themselves from the rest. Braintrust's Tourism Barometer reveals that the aspects that generate most interest in guests are those that have to do with advice and personalisation, even more than technology (connected rooms, contracting services via App, customer service via WhatsApp...). We are referring to advice on local sites and activities as well as gastronomy related to local and organic products; in short, offering elements of value that allow the traveller to integrate and soak up the culture and customs of the place they are visiting. Agreements with restaurants, shows, etc. that offer some kind of discount in prices to travellers and having specific leisure areas within their facilities are other aspects that are well perceived by tourists.
For José Manuel BrellInspite of what it may seem, no establishment can claim victory and no establishment can feel defeated. A correct value proposition, aimed at the right target (in channel and form) can achieve the necessary confidence in the traveller and recover pre-crisis levels sooner than might be expected. And it seems that personalisation and integration into the local culture and customs may be key".