BRAINTRUST has carried out a new wave of its Tourism Barometer, at a time of uncertainty, although glimpsing the light at the end of the tunnel, which shows that the Spanish traveller will once again save the tourist season, accounting for 77% of the total weight of the influx of tourists to our destinations.
The domestic traveller will once again be the key to tourism recovery.
Again this summer, according to the BRAINTRUST Tourism Barometer forecasts, the Spanish traveller will be the bastion of the industry's recovery, with an annual weight in number of trips of up to 77%, provided that the Spanish government's plans to have group immunity for the summer are fulfilled. However, there could still be some restrictions on local mobility, although after the end of the state of alarm, bookings will soar, as a result of the rebound effect expected from the pent-up demand declared by Spanish travellers to BRAINTRUST, due to the savings generated during all these months of frugal spending on leisure.
Meanwhile, international tourism received in Spain would be gaining weight in 2021 with an estimated 50% of foreign travellers this summer over pre-pandemic levels, increasing its total weight in 2021 to 23%, depending on the pace of vaccination programmes for its citizens and a coordinated de-escalation between the different countries, together with the implementation of the digital green certificate.
In 2020, as BRAINTRUST anticipated, the domestic traveller accounted for a total of 101,523,862 trips compared to 193,574,716 in 2019, a drop of 47.6%.
The direct consequence of this reduction in the number of trips in 2020 was the fall in Spanish tourist spending, which reached 56.0% of pre-COVID levels (from 48,066 million to 21,135 million euros).
This meant that in 2020, domestic tourism accounted for 84% of total trips compared to 16% of foreign tourism, whereas in pre-pandemic years the ratio was 68% domestic and 32% international.
The tourism trends that emerged in the pandemic remain: domestic nature destinations, small and rural hotels and private cars.
The BRAINTRUST Barometer confirms that the consequences that the pandemic has brought to the travel industry are here to stay. This consultancy firm predicts that Spanish travel will once again be mostly domestic, to remote and natural destinations, that as a result we will stay in small and rural hotels, and that we will prefer to travel in our own cars, seeking the health security that has worried us so much since the virus appeared in our lives. Even though progress has been made in vaccination, travellers are still cautious and cautious, with nature destinations standing out, whether they are beach destinations with 55% and/or mountain destinations with 41%, compared to urban destinations, which remain stagnant at less than 25%. On the other hand, the increase in the use of second homes stands out, reaching almost 21%, undoubtedly motivated by an economic component but also to re-establish normality in the lives of Spaniards.
A unique opportunity for some cities, where safe, uncrowded and sustainable destinations could be the winners in this race against a more evolved post-pandemic traveller.
In its new wave, the BRAINTRUST Barometer shows some significant results for the coming season once mobility restrictions are lifted, and that is the rise of small cities framed within natural areas, generally inland, where a wide cultural and heritage offer is combined with more complete experiences, adding gastronomy, adventure, sport, or health and wellness activities. In this sense, cities such as the 15 cities that make up the World Heritage Cities Group and similar concepts are gaining ground on the large cities and large-scale urban contexts in Spain and Europe, which still have some time to go before reaching pre-COVID levels.
For José Manuel Brell, Co-Director of Barómetro Turístico and Partner in charge of the Quantitative Studies and Models practice at BRAINTRUST: "The tourism model must evolve to show not only the sun and beach, but also the rich and vast offer of Spanish destinations asa whole. This Spanish tourist, on whom the sector is pinning its hopes for the summer season, and also the international tourist, to the extent that mobility restrictions become more flexible, will return to travel as before but with the learning after the pandemic that travel is an article of necessity, to be valued and savoured. This is shown in our Tourism Barometer, which highlights the change in trend from traditional, overcrowded destinations to new, more diversified and sustainable destinations, endowed with a natural and cultural wealth that meets the needs of a new post-COVID tourist. Moving along this path will balance our tourism model towards socio-economic, environmental and territorial sustainability, correcting past imbalances".
The seasonality of domestic tourists varies by region, allowing for greater economic sustainability in some communities and less in others.
In its detailed analysis, BRAINTRUST has elaborated a seasonality index of national tourists and their spending by C.C.A.A. offering a complete picture of the economic model by regions, identifying those communities that have the greatest potential for economic sustainability and employability, a fundamental aspect in the Tourism Modernisation and Competitiveness Plan of the Secretary of State for Tourism, which supports the development, evolution and reconversion of these destinations with a view to the Sustainable Development Goals of the 2030 Agenda.
SEASONALITY INDEX OF SPANISH TOURISTS TO THE CC.AA.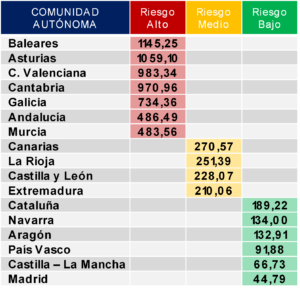 Prepared by BRAINTRUST (based on INE 2019 data).
The Balearic Islands, Asturias, Valencia, Cantabria, Galicia, Andalusia and Murcia are the C.C.A.A. with the highest seasonality index, which reflects the fact that the expenditure received from Spanish tourists is not spread over all the months of the year, which means that, in this sense, they have a model that could be improved in terms of economic sustainability. On the other hand, Madrid, Castilla-la Mancha, the Basque Country, Aragon, Navarre and Catalonia do manage to receive a more similar expenditure from national tourists month by month and, therefore, do not depend so much on the overcrowding and concentration of their visits to sustain their economic infrastructure and maintain tourist employment throughout the year.
For Angel García ButragueñoCo-Director of the Tourism Barometer, and Director of Tourism at BRAINTRUST, "Researching and understanding the market is key to maximising demand and preparing supply, in a competitive environment where nothing will ever be the same again, Spanish destinations must focus on quality tourism instead of looking for quantity tourism, as happened year after year before the pandemic. Public institutions, encouraged by Spanish and European policies, are seeking to convert destinations, making them more sustainable, both from an economic, social, environmental and territorial point of view, providing a large amount of funds for this purpose. This is the future path we are working on at BRAINTRUST, developing strategic sustainability plans for destinations, and towards which all actors in the value chain must look, to build a new tourism, which will allow us to continue to be world leaders in the 21st century".